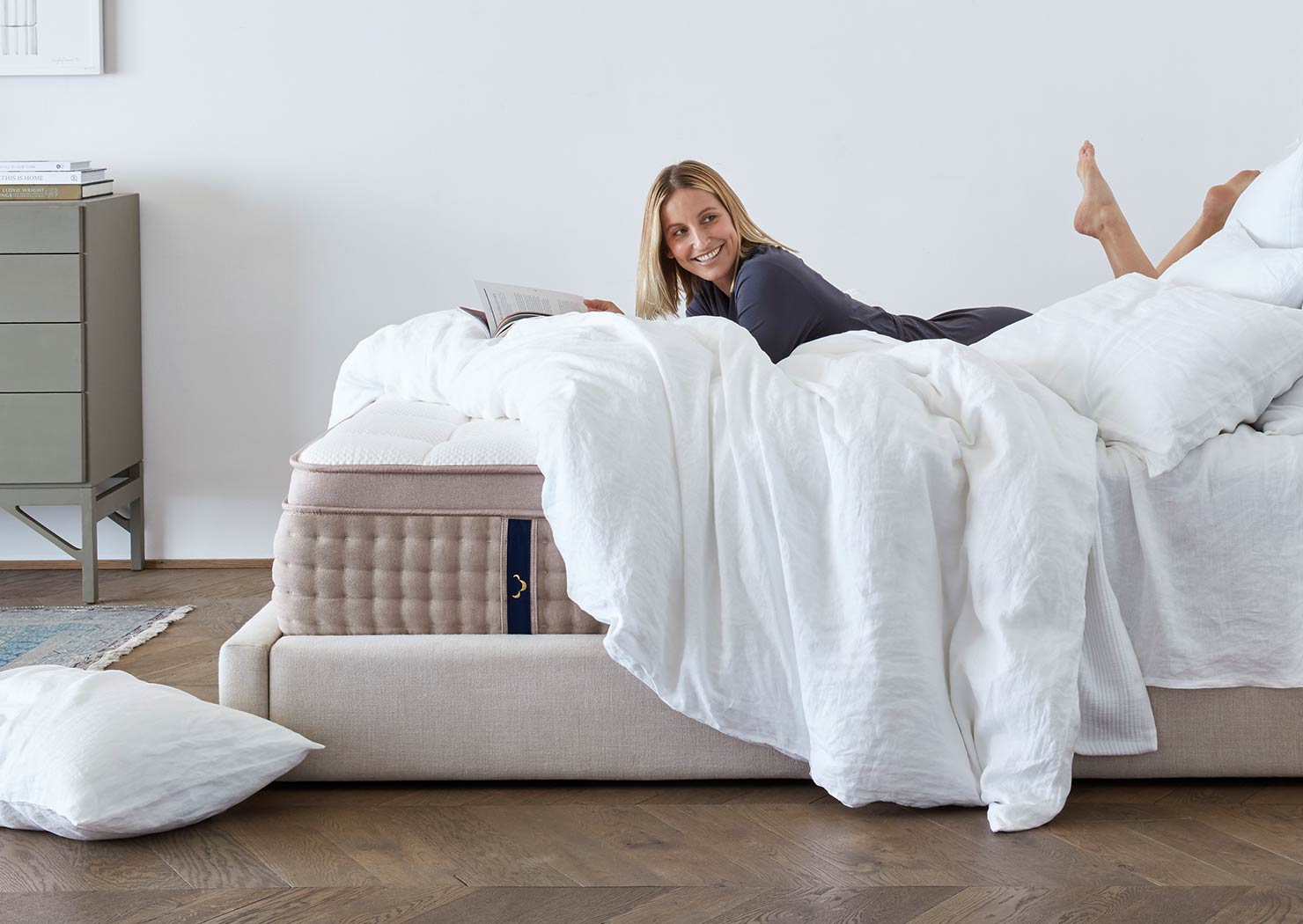 Dreamcloud Mattress
Luxury mattress at the best price
Life long Warranty
365 night trial
Free Shipping and Returns
Finance Available
White Glove Delivery
Mattress Removal
Finance Available
15 Years warranty
120 Days home trial
120 Night Trial
15 year warranty
Cooling Gel
Organic cotton cover
Flame retardant
100% Natural Latex
2-in-1 Dual Comfort 
100% Organic Cotton
100% Joma Wool 
Want to sleep like George Clooney? Heck, why not? And how much would you be willing to pay? $15,000, $50,000? "Sure, coz once I am in the bed, I don't want to get out", says Steven Watkins. He is a sales rep at a retail store that has an Aireloom Mattress Collection. That's where Hollywood celebrities sleep on. Check out luxury mattress here at Matracos.com.
Luxury mattress
There is something special about the brands celebrities opt for. It naturally creates a fascination for us to live like them. The luxury mattress they choose are not just handmade but are environment friendly too. For instance, Vividus from a Swedish luxury mattress company called Hastens is one of the brands most preferred by many celebs. In fact, rumour has it that Tom Cruise and Angelina Jolie is shopping for a $65,000 handmade horsehair mattress. An excellent craftsmanship, it takes around 140-160 hours to build each mattress. In fact, it is designed using only the finest natural materials.
If you have great space in your bedroom, go with the Tempur-Pedic's memory foam mattress. Oh, did you know Kelly Osbourne gifted it to her brother, Jack, on his 26th birthday? When asked she quoted, "I got him a new mattress, its the same kind I use, one of those Tempur-Pedic kinds, it's like sleeping on a cloud! I am sure he appreciated it".
Handcrafted mattress
The handcrafted mattresses feature only the highest quality materials available that speaks of flawless craftsmanship. Barack Obama when he was president has allegedly got himself a Shifman mattress early 2015. Other handcrafted mattress such as Kluft mattress are favored by many celebrities such as Demi Moore, Cindy Crawford, George Clooney etc.
On the list of favorite mattress among celebrities also falls Hypnos that is termed as 'the most comfortable bed in the world'. It has many clientele to its credit such as Queen of England, Oprah Winfrey etc. In fact, Hypnos claim themselves to be the only bed manufacturer to supply the British Royal Family and their Household.
Eco-friendly Luxury Mattress
Supporting the Mother Nature are few of Hollywood celebs such as Eva Longoria who gave a shot at Latex foam mattress from Simmons Natural Care and had it customized to suit her taste. Even the "Speed" star, Sandra Bullock is going Natura.
P.S. Before you go
Bottomline, Luxury mattress have gone past the recession and many consumers are wanting to indulge in the best mattress that money can buy. Its not celebrities but those who realize the importance of sleep and have the source to buy can definitely share a bed with their favorite stars.