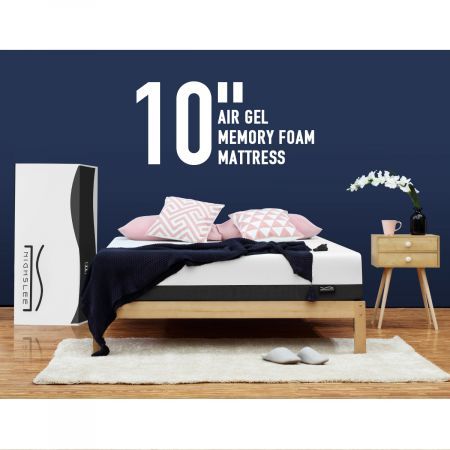 NighSlee mattress is one of the new online mattress brands in the US (launched in 2018) that offers you memory foam mattress at less than $500. (YUP…YOU HEARD IT RIGHT!!!) We will review the NighSlee 10" Queen Memory Foam mattress here.
NighSlee Memory Foam Mattress Reviews Check Price
NighSlee Memory Foam Mattress User Reviews & Ratings
So far, NighSlee Memory Foam Mattress has received positive reviews from users. People say that the product is excellent and offers ultimate support and comfort to all type of sleepers. It is a one-mattress-suits-all brand which means it works brilliantly for all sleepers irrespective of size, weight, sleeping style, and gender.
Here are what users have to say.
Sujji – "I bought this for my 3rd My parents came, and my old bed was damaged while moving. So we trashed it and were searching for a new mattress in a budget with good comfort. it is the perfect mattress for those who are on a budget. It is not only made of quality memory foam, but it comes with cooling gels that regulate your body temperature. A sure try."
Wade –"Excellent high-quality mattress at the best price. It is comfortable and comes with firm memory foam with zip-on cover to keep it clean and protected. They are vacuum sealed for easy delivery."
Andrea – "There is nothing I dislike in this mattress. I love the mattress it is so soft and firm and offers better sleep."
Yasmin Hoppe – "Arrived even quicker than I expected. Excellent memory foam mattress. It is so comfortable that the delivery is quick and hassle-free. I ordered the NighSlee King mattress. It looks great, feels great and has given me the best night sleep I have ever had. I got this again due to customer service."
Nikita Just – "Arrived vacuum packed and left it 24 hours before use. I had the best night sleep in a long time. I am a large person with arthritis so would highly recommend it. It made a difference with comfort levels that assist better quality sleep."
NighSlee Mattress Models & Sizes – – King, Queen, California King, Twin
There is only model available, i.e., the NighSlee memory foam mattress with different sizes available.
Here are the dimensions, size and other specifications of the NighSlee viscoelastic mattress.
| | | |
| --- | --- | --- |
| Types | Dimensions | Weight |
| Twin | 39" x 75" x 10." | 41 lbs |
| Twin XL | 39" x 80" x 10." | 44 lbs |
| Full | 54" x 75" x 10." | 57 lbs |
| Queen | 60" x 80" x 10." | 67 lbs |
| King | 76" x 80" x 10." | 84 lbs |
NighSlee Mattress Trial Period, Guarantee & Warranty
NighSleep mattress offers you a 100 nights trial period. This means you can try the bed for 100 nights and if you don't feel comfortable, directly call customer service and ask to return. You will get a refund in 30 days. Replacing the product does not cost you anything, and the cost is covered by the company. Nightly mattress also offers you a 10-year warranty which provides protection for your bed, cover against manufacturing defects.
Discount Prices On NighSlee Memory Foam Mattress
NighSleep offers you excellent discounts on their mattresses. They are currently offering 10-30% OFF on all their beds.
13% OFF on Twin
32% OFF on Twin XL
28% OFF on Full
38% OFF on Queen &
26% OFF on King
Coupons Codes & Discounts For NighSlee Mattress
There is no real need to use discount coupon codes to order NighSlee mattress as it is already available for purchase at a low price.
Bad reviews of NighSlee Mattress
We have researched very much and could not find any complaints from users about Nighslee mattress. So far, people have only kind words to say about the bed. This is also because Nightline is relatively new to the market. It takes time for mattress owners to try the product.
NighSlee Mattress Return Policy
NighSlee mattress and its pillows come with a 100-day return policy in case you want to return it and claim a refund. There is a Contact Us form through from where you can contact the customer care regarding any queries, refund, etc.
NighSlee Mattress Shipping, Delivery, Setup & Installation
NighSleep memory foam mattress is eligible for FREE SHIPPING and delivery anywhere in the USA.
NighSlee mattress comes packed in a vacuum-sealed format. It comes with a plastic cutter to remove the package cover. You will also find an instruction manual with NighSlee mattress.
Unbox the NighSlee mattress BUT FIRST, make sure to place it in the bedroom where you are planning to use the bed.
Place the mattress on the bed frame or foundation.
Remove the package and the plastic cover.
At this point, your mattress will begin to expand. Give it time to retain into its original shape and firmness.
If you feel a slight odor, it is common. Leave the mattress open for 24 hours and the smell will dissipate.
The company is 100% legit as many customer reviews can vouch for the company, its products, quality, delivery, and other factors.
We understand it is difficult to rely on a new brand that doesn't offer any office address or customer phone number but even the best online mattress brands do not provide address just because they function online.
Are Bedbugs in NighSlee Mattress a Possibility
NighSlee mattress is made using eco-friendly materials. It is dust-mite proof and comes with hypoallergenic materials. They use only polyurethane foam that is CertiPUR-US certified and protect the environment and the sleepers equally. The materials conform to the requirements of OEKO-TEX standard 100. This means they are free from chemicals, pesticides, and phthalates. They are also free from lead, arsenic, and VOCs.
That said, make sure to use a mattress protector and clean your mattress and bed frame regularly to fight accumulation of termites and dust mites.
Is NighSlee Mattress Good For Back Pain Problems
NighSlee mattress is excellent for back pain problems. The bed is well-tested and manufactured keeping in accordance to alleviate back pain problems. It reduces strain on the pressure points such as the neck, lower spine, knees, etc. so that you can wake up refreshed without any sore back.
This is a medium-firm mattress so you can be sure that it gives you proper support and comfort without making you feel like sleeping on a log.
Is NighSlee Mattress Non-Toxic
Absolutely. NighSlee mattress is made using eco-friendly materials. For instance, it comes with bamboo comfort foam while the memory foam is CertiPUR-US certified making it free from harsh VOCs. They are natural flame retardants that make the mattress safe and hypoallergenic.
How is NighSlee Mattress Made
The mattress comes with three layers of construction.
Top layer
The first layer is 3" temperature neutral cooling memory foam. Unlike other memory foam mattresses in the market, this memory foam is made out of patented Temperature Regulating Cooling AirGel. This keeps the air circulation moving so that you can sleep dry and cool even in hot weather. This is the comfort layer.
Support Layer
The middle layer is also the support layer that offers you 2" of Bamboo Eco Comfort Foam with dynamic pressure relief. This is a prominent feature of the mattress that gives you more support and firmness while giving you a cuddly feeling for those who like to be cradled.
The third layer is 5" of supportive High-density polyurethane base foam. Stating the obvious, this is the base layer that handles all the above layers and your weight. Hence, it is one of the crucial elements of the mattress. That said, it is not only firm and robust but supports your weight equally.
NighSlee Memory Foam Mattress Cover
The mattress cover is an eco-friendly hypoallergenic dust mite resistant design for the bamboo cover. It is designed to keep the mold and bacteria away. This is to keep you and your children safe from dust mites and its related itches or rashes.
Mattress Pads by NighSlee Mattress
NighSleep mattress is best suited for back and side sleepers. However, for those who want to sink in the mattress or want the bed to cradle you into your sleep or stomach sleepers, mattress pads will work best as it might offer the necessary softness you need.
NighSlee Mattress Cover
Nighslee mattress cover is made using natural Bamboo which makes it eco-friendly, safe on the skin and flame-retardant. Currently, NighSlee does not offer any replacement covers. However, you can buy a standard size mattress cover from Amazon or use a washable or reusable mattress protector to secure your mattress from spills or stains.
NighSlee Mattress Topper
Mattress topper works like mattress pads. They not only fit the mattress perfectly but also provide an extra layer of comfort. Try mattress topper just if you have a partner with different sleeping preference from yours, or else NighSlee is versatile enough to adapt to the user's sleeping style.
NighSlee Mattress Bedding Accessories
The only bedding accessory currently offered by NighSlee mattress is a pillow made out of memory foam.
NighSlee Mattress Firmness Analysis
On a firmness scale of 1-10, NighSlee mattress has received a rating of 6 out of 10 (5-7 perfect for medium-firm). In simple words, it is a medium-firm mattress that offers you the right amount of support and comfort. It provides excellent edge support.
NighSlee Mattress Frames & Foundation
NighSlee mattress is adaptable to all bed frames and foundation. If you have an existing structure in good condition, you can use your NighSlee mattress. If not, we suggest you buy a new bed frame to avoid jeopardizing the warranty. NighSlee 10" memory foam mattress is compatible with any bed frame including an adjustable frame.
The NighSlee Mattress Blog
NighSlee mattress offers a blog so that users can read more about quality sleep and its benefits. Check out their blog here –https://www.nighslee.com/blog
The NighSlee Mattress Showroom & Store Locator
Nighslee mattress is available online only. It is not available at any retail stores or showroom.
NighSlee Memory Foam Mattress Delivery Fee & Time
It would take approximately 7-10 business days to have your NighSlee mattress shipped and delivered at your doorstep.
NighSlee Mattress Financing
Currently, NighSlee mattress does not offer any financing as the price of the bed is within $500.
NighSlee Mattress Safety & Certifications
All the NighSlee mattress PU foams are CertiPUR-US certified. This means they are free from harsh VOCs, flame retardants that can cause allergies and respiratory issues, heavy metals such as lead, arsenic, etc. It is an eco-friendly mattress that is safe on you and your family's body.
All NighSlee products conform to the requirements of OEKO-TEX Standard 100. This indicates that they are free of harmful chemicals and are safe for human use.
Maintenance On NighSlee Mattress
It is easy to maintain NighSlee mattress. For starters, DO NOT remove the mattress cover that comes zippered with the bed.
Always use a mattress protector. This means it more comfortable to clean and care for your Nighslee Memory Foam Mattress.
Also, rotate your mattress. Since it is not flippable, rotating prevents sagging or losing edge support. So make sure to rotate the mattress every 3-6 weeks.
Off-Gassing, Environmental Safety concerns at NighSlee Mattress
Since your NighSlee mattress arrives fresh and crisp from the manufacturing unit, you may (or may not) notice a faint smell. This is common with any other new mattress brands. Keep it open for 24-48 hours. You will see that the smell dissipates.
Does NighSlee mattress sleep hot?
Being a memory foam mattress, many think that the bed will sleep hot. However, that's not the case with NighSlee mattress. Because it features the patent air cooling gels that wick away the moisture from your body while improving the air circulation between the mattress layers. This will enhance the airflow and prevent heat from getting trapped into the mattress giving you breathable surface to sleep.
Motion Transfer on a NighSlee Mattress
NighSlee mattress is designed in such a way to absorb the weight and offer you excellent personal isolation. It means even if your partner hops in and out of bed, you can sleep peacefully.
Sagging Problems in NighSlee Mattress
So far, sagging issues of NighSlee mattress have not yet been noticed. Always make sure to use a proper foundation to support your mattress and prevent sagging in the middle. Also Rotating your mattress will increase the life of your mattress.
Conclusion
If you are looking for a memory foam mattress within $500, then NighSlee Memory Foam Mattress is your best bet. They do not compromise on quality and offer you exceptional layers that support your body to provide peaceful sleep every night. It just doesn't get better than this.