Winkbeds Mattress
Mattress reviewers who conducted various tests on the WinkBed Mattress found it to have good edge support, minimum motion transfer and also very little sinkage over time. The overall quality was very satisfactory
The Perfect Cloud Supreme Memory Foam Mattress comes with a thickness of 2.5 inches (uses airflow memory foam). The base layer has a thickness of 5.5 inches and uses Unique HD base support foam for the same.
Sleeping is an essential part of our life and a mattress is a piece of tool, which has utmost significance to accomplish the same. Memory foam mattresses are one its kind and one of the idyllic choices when it comes to sleep. In this article, we will be reviewing about Perfect Cloud Mattress and its models. So stay tuned to know more about interesting memory foam varieties. Read More …
Before getting into the mattress read a few words about Perfect Cloud Mattress maker
Affordable luxury and unique business model is the top priority of perfect cloud. They have cut down costs with efficient management of retail costs. In addition, they have a supply chain system that optimizes all the costs and creates a value-based mattress as a product. In Toto, customers can purchase affordable luxury mattresses at a fraction of traditional costs. Talking about the quality aspect, perfect cloud uses premium quality materials and artisan-crafted memory foams with advanced ventilation features. They are best and use first class fabrics.
Perfect Cloud Mattress – Models with the coveted Goldilocks standards
8-inch Perfect Cloud Supreme Memory Foam Mattress – "Never Felt So fine" is what customers have to say
The Perfect Cloud Supreme Memory Foam Mattress (medium firm) comes with a thickness of 2.5 inches (uses airflow memory foam). The base layer has a thickness of 5.5 inches and uses Unique HD base support foam for the same. The top layer adds to the breathability and the base layer supports the body weight. This base model cradles the body and distributes the weight evenly. Top grade premium quality stretch knit cover complements the overall finish of the mattress. This cover is removable and easy to maintain. The top of the cover has fine embossed design patterns that blend with any sort of room decor. In short, this base model offers everything and is truly an affordable luxury.
10-inch Cool & Comfortable Perfect Cloud Atlas Gel-Plus Memory Foam Mattress
This Perfect Cloud Atlas Gel Plus mattress has body-hugging features and pampers your body with every bit of comfort. The top layer has a thickness of 3 inches (styled with signature gel-plus memory foam). The second layer is of 3 inches bi-directional double airflow comfort foam. The base layer has a thickness of 4 inches with double airflow HD base support foam.
Check the pros on Nest Bedding® Organic Cotton Luxury Sheet Sets reported. Cheap! And nothing to worry as they are made with eco-friendly materials, certified organic in nature. Learn from the customer reviews stated.
The topmost layer is full of comfort and the second layer offers ventilation features. The third layer of the base layer supports the second layer as well as provides improved breathability. It creates temperature-neutral sleep and the perfect climate for a restorative sleep. The cover is stretch knit has a contemporary look and easy to remove/maintain. The cover has a Mocha Ultrasuede siding with a soft touch feel.
10 inch Perfect Cloud Ultra Plush Mattress Review
This Perfect Cloud Mattress features an Ultra Plush effect and gives just the right feel to sleep. It pampers your every bit of the body with luxury and softness. The top layer is of 1.5 inches with air infused memory foam. As the name suggests this layers improves the cooling effect and airflow. The next layer is of 2 inches gel max-memory foam. This layers supports and conforms in accordance with the body every time you sleep. It also helps to regulate the sleep temperature without producing heating effects.
The base layer has a thickness of 6.5 inches with HD base support foam. The supportive base offers a weightless sleeping experience and awesome support. It is sturdy and makes the mattress durable. The stretch knit cover is removable with newest Mesh Gusset Air transfer technology. This unique design allows air circulation and keeps the mattress odor free. If you love to sleep on a soft plush mattress then this one offers exactly what you want.
10-inch Perfect Cloud Lavender Bliss Memory Foam Mattress
The top layer of this Perfect Cloud Mattress has 1.5″ has ventilated Lavender Infused plush memory foam, followed by 2.5 inch ventilated gel infused memory foam and 6 inches of poly support base foam. The lavender layer has a soothing lavender scent. Even if the scent wears off after some time, the benefit of lavender can be felt for a long time.
12- inch Perfect Cloud  Elegance Luxury Mattress – comfortably affordable
It is common to have a high price tag when it comes to a luxury mattress. However, this Elegance mattress seems to have a different take on the price factor. It offers high-end comfort and at the same time has price that is comparatively lower and unimaginable. This luxury mattress has 1-inch thick top with HD air infused memory foam and below that, a 1.5-inch thick layer of regular air infused memory foam. Both these layers offer a cushioning effect and cradle the body evenly.
The middle layer has a thickness of 2 inches and makes use of gel-pro memory foam. This advanced gel infused foam conforms to the body shape and offers peaceful sleep. It also sets the temperature perfectly without producing heat. The supportive layer has a thickness of 7.5 inches and uses HD base support foam. The base is extra thick and offers a sturdy feature to the whole mattress. This luxury mattress offers weightless sleeping experience and has a special mesh gusset air-transfer cover just like the previous model. Again, it has a removable cover and it is very easy to maintain. Looking for a fresh breathing mattress then this one is a great pick. Further, check on the perfect cloud elegance mattress review available at their site.
Perfect Cloud Hybrid 11 inch Mattresses are also available which is a combination of pocket coil spring and memory foam mattresses. It provides the benefits of coil spring and memory foam providing both support and comfort for a  good sleeping experience.
Why choose perfect cloud memory foam mattresses?
Memory foam mattresses are just incredible and offers a great sleeping environment. Perfect cloud mattresses are first class products that deliver just pure sleep with ultimate luxury. It is comparable to grand hotel mattresses as they are epitome of luxury. These four models offer "cloud-like" feel and just the right "sink".
Great for combination sleepers as all the models especially the last model has responsive materials. It easily adapts to different sleeping positions without interrupting the sleep or giving the "stuck inside "feeling. The last model has dense layers of air memory foam and offers blissful sleep every night you cuddle on top of it. In general, all the four models are a great choice for combination sleepers.
All the models are ideal for heavy as well as slim body types. You will sleep great throughout the night with the right temperature and body support. Everybody is unique and all the mattresses from perfect cloud have a construction that supports all sorts of body type.
Reasonable price is another interesting aspect of perfect cloud mattresses. Perfect cloud Mattress has considerably reduced its overall costs with unique business models. They have retail costs cut down and an efficient supply chain system functioning behind the curtains. This actually has brought great results and each mattress has a reasonable price. Reasonable price in the sense, each mattress comes at a fraction of the normal costs that you pay for memory foam.
Other Features of Perfect Cloud Mattress
All the models make use of premium quality materials, resilient materials that are durable and long lasting. Perfect cloud mattresses are above par in terms of quality and stands a though competition to the mattress giants like Sealy, Tempur-Pedic and many more.
Perfect cloud also follows the bed-in-a-box style just like other mattress makers.For easy shipping perfect cloud employs the compressing technique. This helps to reduce handing and shipping costs considerably. It allows the user to handle and store the mattress easily.
Free from chemicals and toxins. They are free from ozone depletes, PBDE flame-retardants, heavy metals, phthalates and formaldehyde. Their mattresses has low VOC emissions and contributes very less to indoor air pollution(less than 0.5 parts per million). Perfect cloud mattresses are CertiPUR-US Certified.
Dense airflow memory foam allows better air circulation and improved breath ability to the mattress. Progressive layers of foam add to better support and weight distribution.
Perfect cloud mattresses are hypoallergenic and dust-mite resistant.
Where do you buy Perfect Cloud Mattress?
You can buy them from the Amazon portal exclusively. They do not sell through retail or wholesale outlets.
Warranty Period
Perfect cloud mattresses has a warranty period of 25 years and one of the longest warranty periods that you can find in the mattress industry. All the mattresses get's its design approved by USA sleep experts. So buy with confidence and achieve ultimate sleep.
Perfect cloud mattress Amazon
Perfect cloud sells its mattresses via Amazon; it comes with a 30-day trial period. You all must be aware that Amazon has a customer friendly policy so be calm. All returns and exchanges follow the same rules put forward by Amazon.
In case if you did not like the product during the trial period, you can apply for return or exchange as per their policies. Make sure to keep the purchase proofs and invoices intact. For further queries, you can contact at the following address: PERFECT CLOUD, 19215 SE 34th St. Ste 106-382, Camas WA 98607, United States or send email at info@perfectcloudmattress.com.
Perfect cloud mattress Review
Perfect cloud mattresses are the first preferences due to two reasons 1) the price factor 2) luxury factor.
Customers say that these mattresses offer the same feel and luxury like that of high-end mattresses. Yet these mattresses have a price that is affordable and easy on the pocket. A few customers say that it has initial odors that fade away within few weeks. The best way is to air out the mattress in some open space. Majority of the customers love the design of the cover and its patterns. Some customers say that initially they did not feel any difference but as each night passed they started feeling the comfort. Perfect cloud mattresses have great positive customer responses and reviews at the Amazon site.
Conclusion
Perfect cloud aims at changing lives one night at a time. They are on this mission since over a decade and have excellent models to offer. All their mattresses are quality sleep products crafted carefully to optimize sleep. Perfect cloud mattresses are great in terms of quality and best in terms of price. They are exclusively available at the Amazon and at exciting prices. If you are serious about comfort and luxury then look no further but click on the link and bring home a brand new perfect cloud mattress.
Summary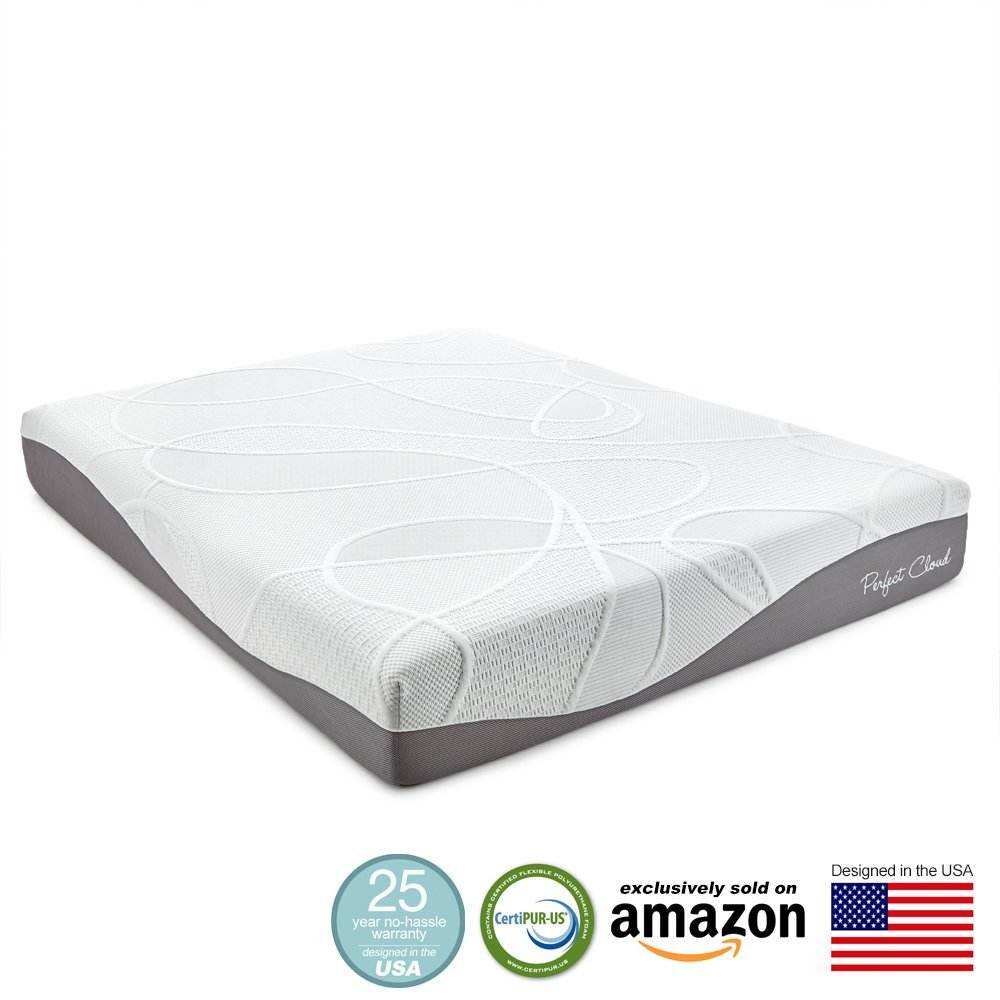 Author Rating
Brand Name
Product Name
Perfect Cloud UltraPlush Gel-Max 10 Inch Memory Foam Mattress
Price
Product Availability
Comfort, firmness, support, bounce, and responsiveness are some of the great features of Avocado Mattress. The company offers free shipping and 100% money back challenge on all their products. So, why wait? Read the best reviews to order one…
Use Helix Sleep Mattress coupon codes and get exciting discounts on your product!!! Save more with Helix Sleep that also offers promo deals which means high-quality mattress at a cheap price. Learn more about the discount coupon codes here.